Winter Travels and Cabins
Last year in late November W came to visit in Alaska and we went on a 3 day skitrip through the White Mountains. The White Mountains is about 1-2 hr drive from Fairbanks, and of course there was a snowstorm the morning of day one, of our adventure, but we still drove towards the White Mountains. I wrote a little text about part one here. We only did a small part of all the trails that are available. There is at least 100 miles of fairly untouched wilderness out there with cabins along the way.
Into the Wild ?
When you go into the backcountry in Alaska, well I would argue anywhere I suppose, you have to be prepared for anything. A big difference though between Alaska and most other places is that there is no cell reception (most of the time) when you go out into the backcountry, or very spotty. Even driving on the highway you can loose reception for big chunks of the time. There are a few trail shelters in the White Mountains that are first come first serve, but as the name implies it is only a trail shelter. The cabins have to be reserved online ahead of time, and they are all dry cabins of course. So getting water mean that you have to melt snow.
Cold Car
Our biggest concern during this trip was that my Subi wouldn't start when we got back to the car after two nights out, after all we had pretty cold weather during the night (around -5 F, -20C, or so could have been lower) and there was of course no plug in at the trailhead.
Cabinlife
We managed to get the cabin closest to the trailhead rented for the first night. It's a short ski (7 miles, about 11 km), and when we arrived the cabin was still warm from the previous visitors. These cabins are more like a shell, not too much insulation but a working wood stove and a place to sleep. You have to make sure that there is enough dry firewood when you leave so the next person can quickly start a fire when they arrive. Most of the time there are a lot of wood in the wood shed, but other times you have to get out and find some dead trees, saw some wood up and bring back to the cabin where you can split the wood. Most trees are black spruce so they are very thin and don't really supply that much mass, but they burn well. And you can't just go and chop down any tree, you have to find a tree that has fallen over and is dead.
Firewood
A lot of times when snowmachiners are out they will have a chainsaw and prepare lots of wood, or even leave wood that they bring in from outside. It's incredible how much wood you sometimes go through if the night is cold and the cabin isn't that well insulated.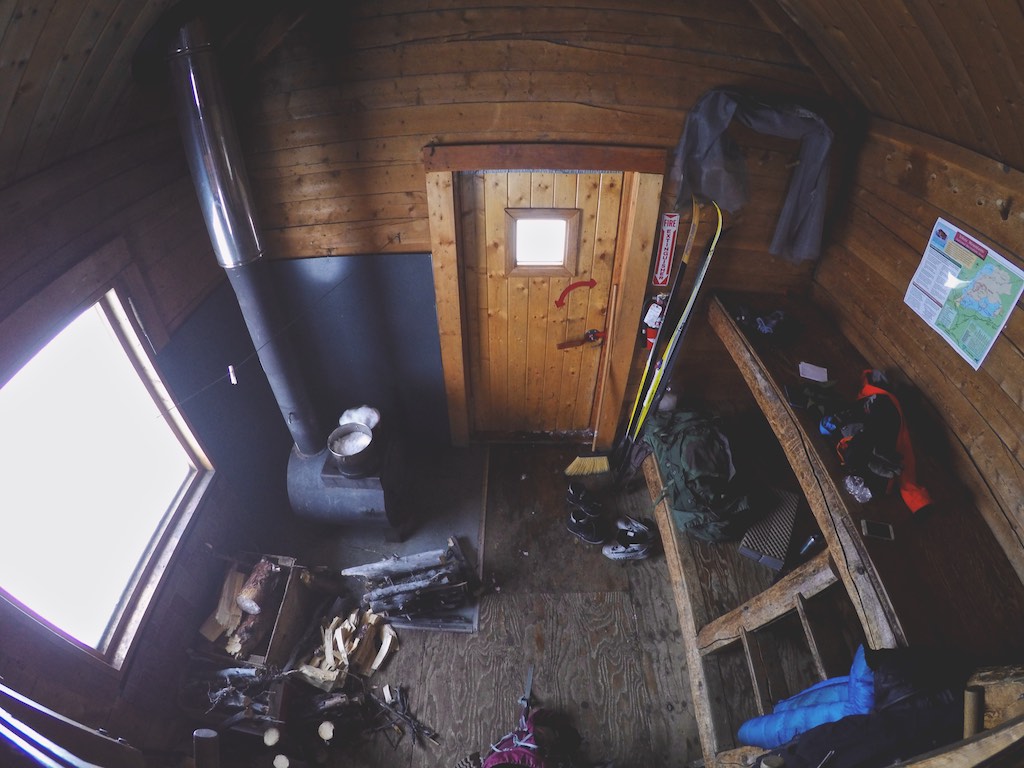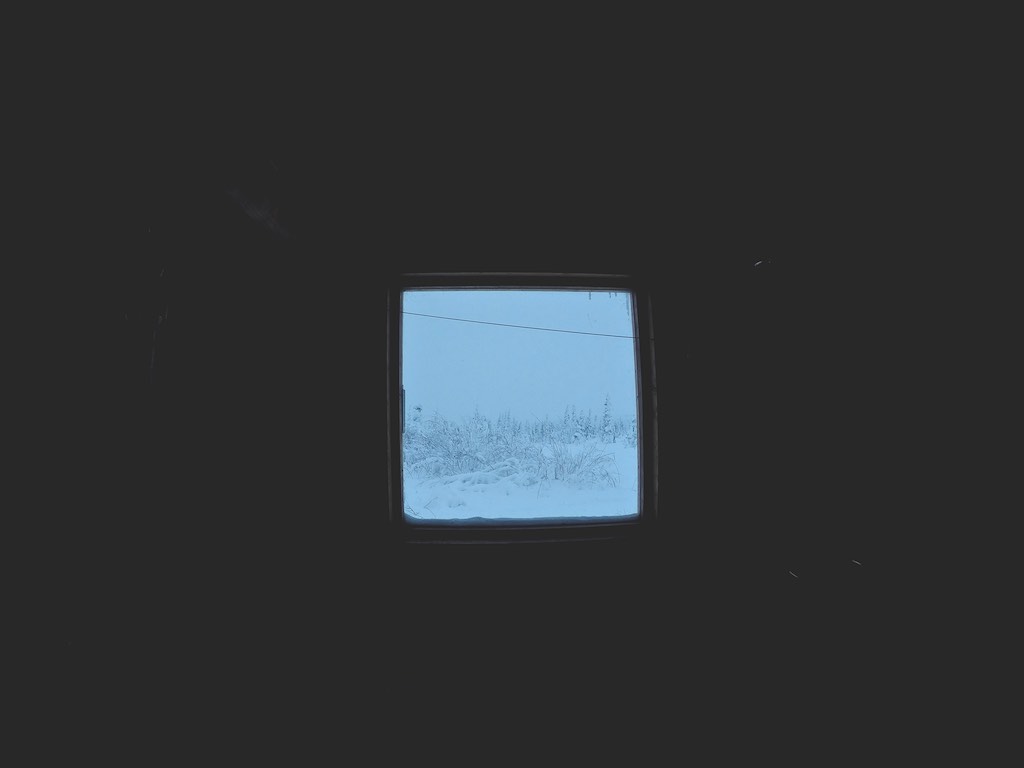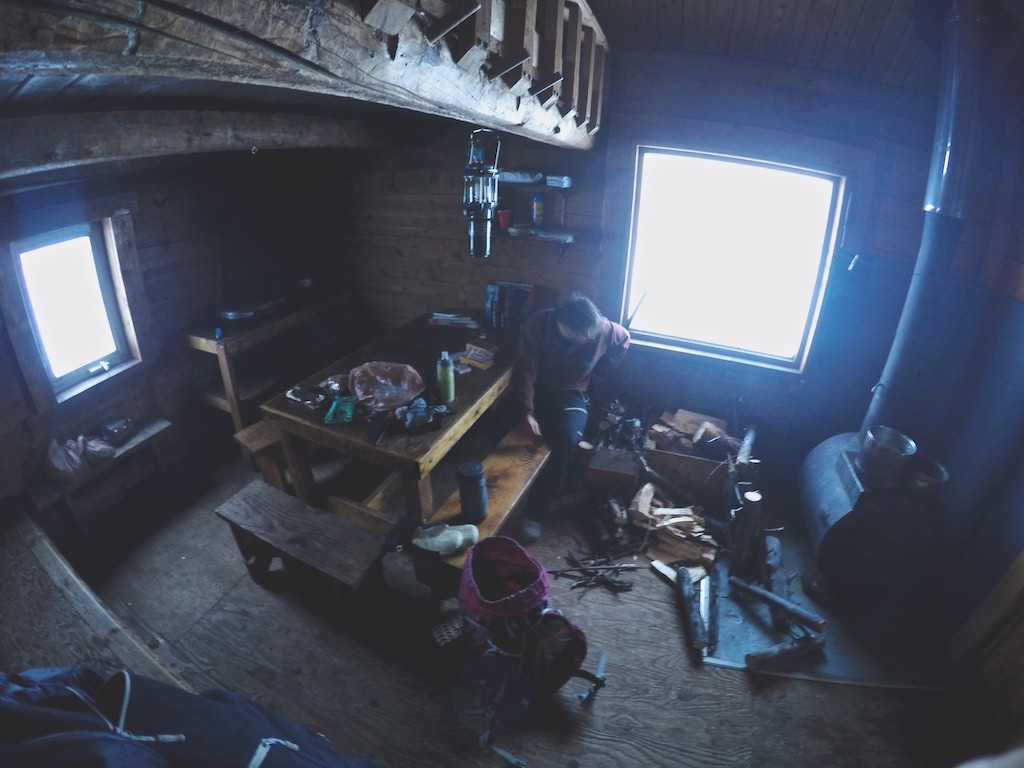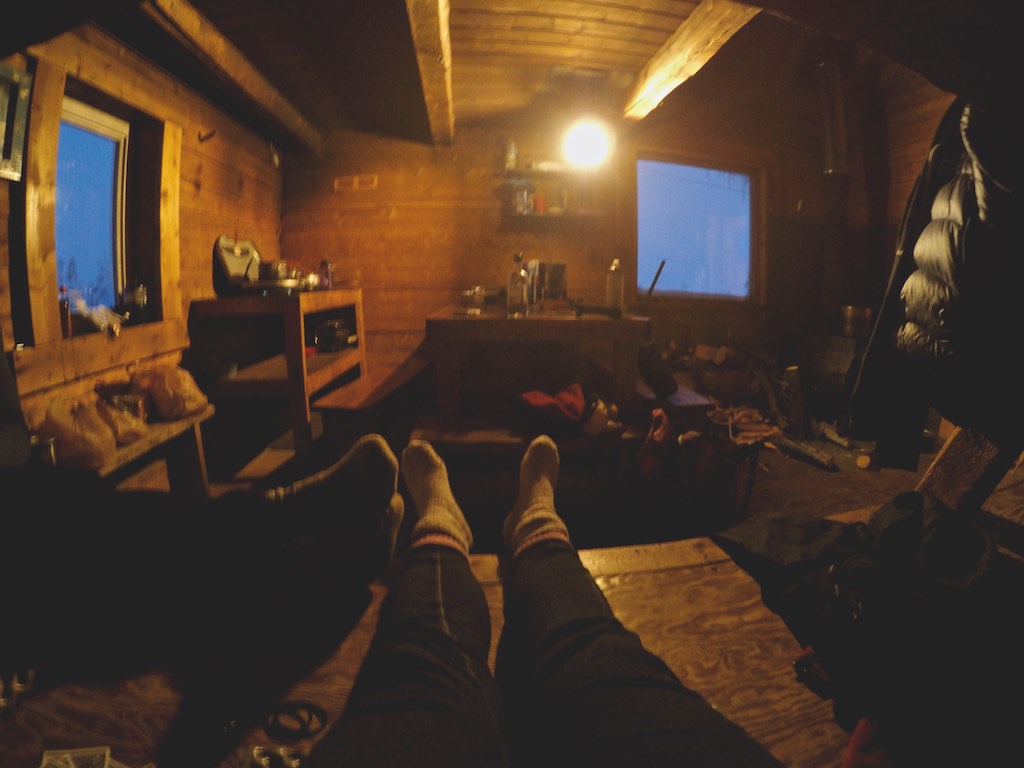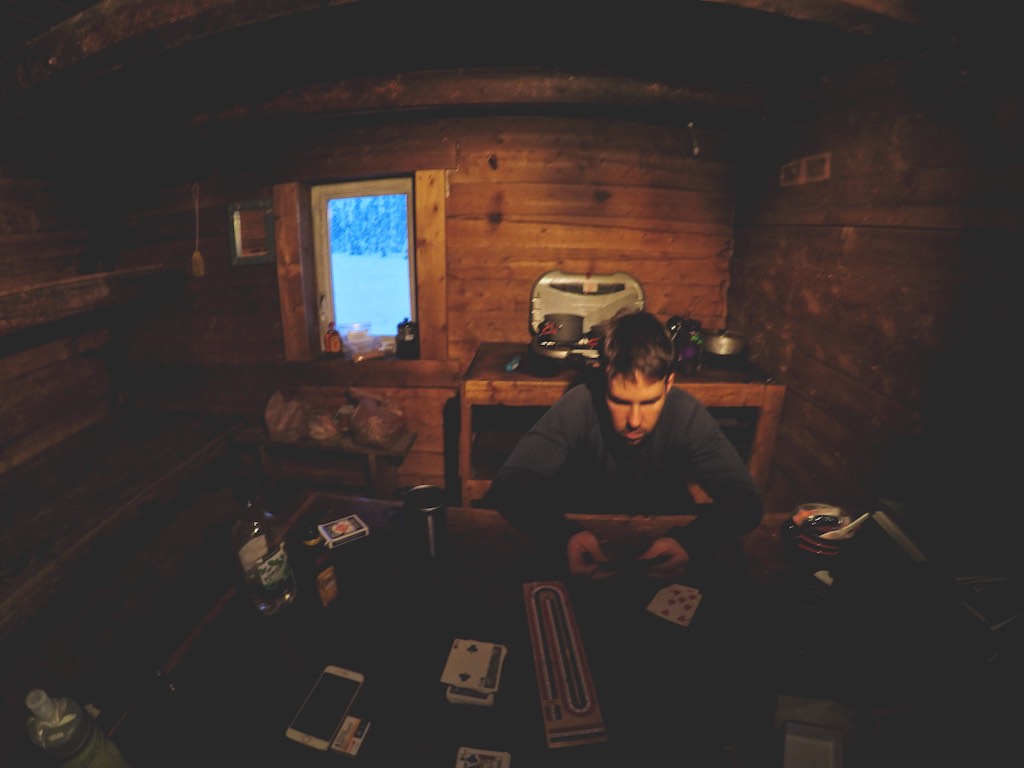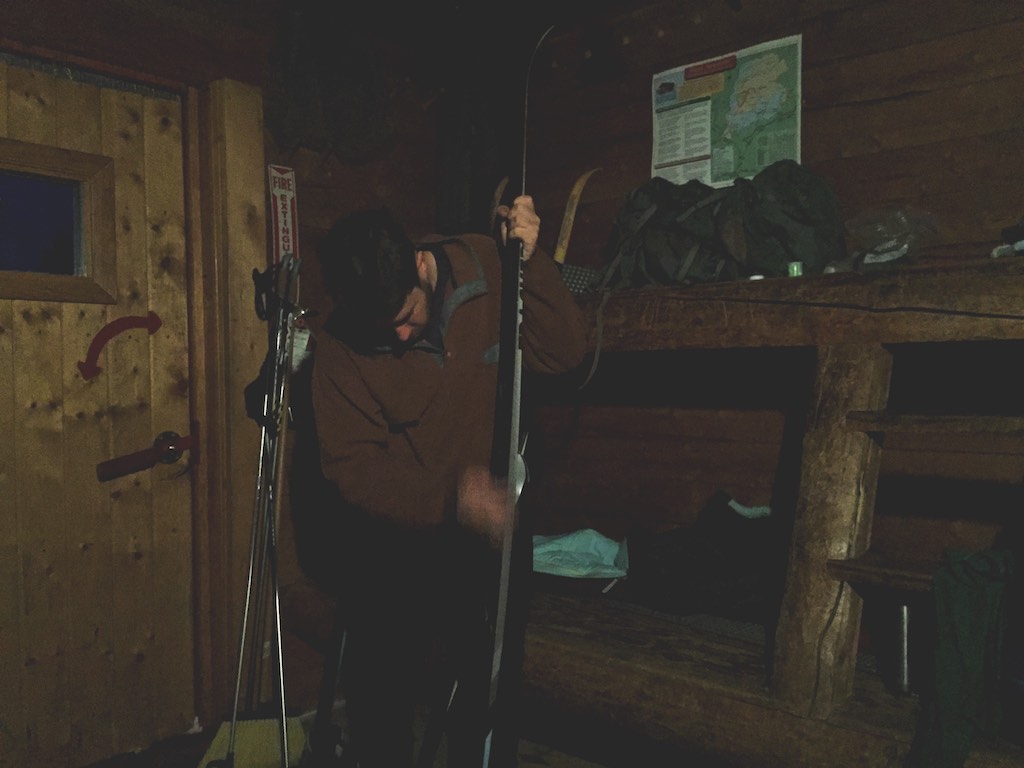 Togetherness
Actually, you can fit quite a lot of people in these cabins too so a lot of people tend to do large trips with a bunch of friends. A lot of people also celebrate thanksgiving out at these cabins, but mostly they have at least one person who has a snowmachine, or they have dogs so they can skijour or pull sleds.
Guest Log
Once at the cabin there are guest logs, which is awesome. It's great to read about other peoples adventures and what they saw and how the conditions were. We, of course, also left a little blurb there.
Snowstorm
During the evening a snowstorm came in and it was very very windy. The next day we woke up to cloudy conditions and about 17 inches (45 cm) of fresh snow in some places...made for an interesting ski to the next cabin since not that many people are out there on a Sunday...more about that next time I write about the winter travels in the White Mountains.
Do you have any winter adventures to cabins like this one to share? What do you do for fun during the wintertime?